EMAIL INTRODUCTION - exclusive to program participants
Get directly introduced to our email subscriber base: as part of our ongoing efforts to increase the exposure, reach and retention of our advertisers, please find below an overview with an active example from a recent email introduction.

Simply provide us a brief, quarter-to-half-page promotional email you would like us to send to our subscribers to introduce you. Email may include graphics (usually your half or full page ad), phone number, and website link. If you have an email base of your own you would like to have included, please feel free to provide. We strongly encourage against adding "coupons" in the introduction emails as they are statistically proven to harm response rates - keep your email brief, to the point, with the goal of having our readers click on your website or call you to learn more, directly!

Thank you - we hope you enjoy this new feature and that it further benefits your outreach!

---
From: USA Cannabis Directory
Subject: Introducing Relief Accounting & CFO Services

Are you looking for professional accounting, tax or attest services to help your business grow?

As part of our ongoing pursuit to connect businesses with complementary B2B products and services, we are excited to introduce Relief Accounting & CFO Services located in the Greater SF Bay Area servicing clients nationwide, and encourage you to learn more about the accounting services they provide.

Welcome to Relief!

Relief Accounting & CFO Services is a World Class firm specializing in the cannabis niche, providing:

Attest Services: audits, reviews, and agreed-upon procedures

280e cost accounting and tax services

CFO services providing first class monthly financial statements

We are part of a national network, AFC (Accounting For Cannabis), that includes expert CPAs, EAs and CFOs focused solely on the canna space

Compliance with state and IRS law

Maximize your cash flow

Our Commitment; by Ken Mierzwinski, CPA & Managing Partner

Relief's commitment to the field of Cannabis Accounting is apparent in the type of service we provide and the tools that we use.

It is "Our Commitment" to provide up-to-date and innovative services, establish a close productive relationship with our clients as well as the community and fulfill our public accounting responsibilities in the most timely and professional manner.

"We are in a class of our own." At Relief, our diverse experiences help to distance us from other firms when it comes to performing attest and accounting services. Our staff has "sat on both sides of the fence." We only employ staff with diverse backgrounds in both the Cannabis industry and CPA expertise.

Please contact us if you have any questions or would like to schedule an appointment at (800) 420-6001 or visit us at www.reliefaccountingcfo.com to learn more!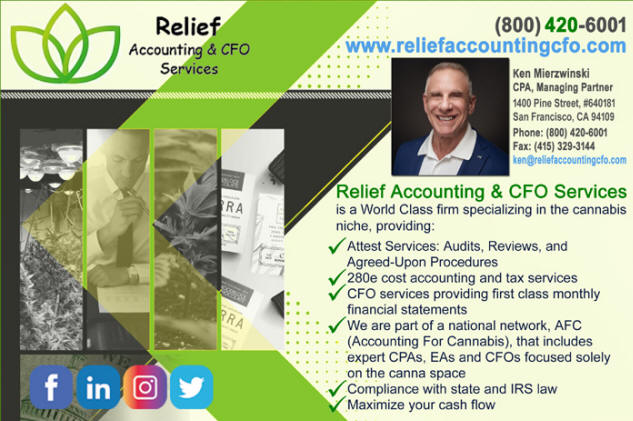 Thank you - please enjoy Relief Accounting & CFO Services as featured in our new multimedia partnership program!

Best Regards,
USA Cannabis Directory
(800) 420-6841
www.usacannabisdirectory.com